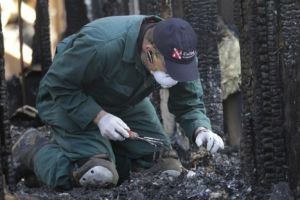 Our fire investigation experts can help with-
determining where, when and how a fire started by examining the scene of a fire

reviewing the physical evidence and taking into account background information from witnesses and emergency service personnel.

 wide range of fire investigation matters from small domestic incidents involving burn damage to people and property to the loss of large commercial premises.

determining the seat (or seats) of a fire from the tell-tale signs given by burn damage and fire debris.

potential sources of ignition, for example, arcing in electrical components or residue analysis for accelerants using analysitcal chemistry.

confirm different ignition sources to those initially reported by other fire investigators.